Listener – September 1, 2001
Through Fallen Leaves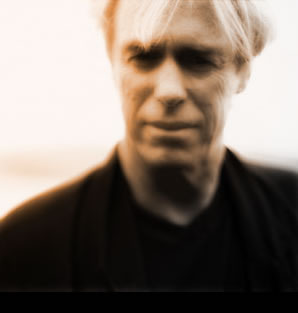 One of our greatest songwriters, Wayne Mason, continues his love affair with the shape and shadow of New Zealand.
"I love New Zealand's physical nature," says Wayne Mason. "I adore the country. Recently, I hopped on a boat and then rode by bike over to Cape Farewell by myself. I just took two pairs of socks and a shirt and slept out on the beach. I had visited there before with The Warrratahs in 1987, but it was like I'd never been there.
"I remember going to Tarakohe on the beach. The band had done a gig at the hall, but it had fallen into disuse. It had been a community hall. The town had gone, the cement works had closed, but the land was still there, the beach was still there. I looked at the flapping tattered curtains blowing in the wind and it made me feel an incredible aloneness and sadness, which is such a regenerative thing, like your heart receives rain."
Mason tells me this story in the kitchen of his house on the seafront in Paekakariki, which he shares with partner Jude Walcott and their boys Josh, 11 and Levon, nine. He dispenses after-school food as we talk about his history and his second solo album, Same Boy, which has just been released by Jayrem, but the boys are more interested in the tucker.
Out the window Kapiti Island foregrounds part of the horizon like an ancient animal and the South Island ranges across Cook Strait like a dreamy archipelago. Mason points: "There's Cape Farewell over there. I read the clouds. That's why I live by the sea. If I hadn't been a musician I would have been a meteorologist.
"When I was very young in Taranaki the dynamics of thunder storms impressed me and when I was 13 in Upper Hutt I had my own weather station. I had my own rain gauge and barometers. I made a weather box and before and after school I'd take readings. I've always had a passion for the weather and I watch it endlessly. I also used to collect weather maps out of the paper and I had eight years of weather maps, but in the end what was printed on the back of them became more interesting to me."
Mason started writing pop songs in the mid 60s and formed one of the most successful local bands of the late 60s, the Fourmyula, when he was still at college in Upper Hutt. They won the Battle of the Bands in 1968 and part of the prize was a return trip by sea to England. "We were there for six months," Mason says. "Did a few gigs, did our dough, froze to death and came home."
But Mason did get to met the Beatles on that trip.
"While we were there we did three tracks for a single at Abbey Road. We were in studio two and the Beatles were in studio three doing "O Darling" for Abbey Road. During a break in our proceedings I wandered across to say hello. I was pretty scared. I spoke mainly to Paul and John for about five minutes. We talked about New Zealand and they were going on about the land of butter and all that stuff and I explained what we were doing and they explained what they were doing. I got so embarrassed I felt I had to stop."
The band went back to England a couple of times in the ensuing years, breaking up when drummer Chris Parry, who went on to manage The Cure, left the group in 1972. It was a "working band" over there, but they recorded Mason's song "Otaki" (". . . people turn on in Otaki") in England's Regent Street Studios in 1970. "Decca put it out as a single," Mason says, "but no one knew what Otaki was. But it sold. It got played in Luxembourg."
The Formyula started making records in New Zealand in 1968; Mason and bass player Ali Richardson did most of the writing. The band's first hit was "Come With Me" and in 1969 Mason wrote "Nature", possibly this country's most evergreen pop song. The Muttonbirds made a hit of it in 1992 and Margaret Urlich recorded it in 1997. Mason sang a fragment of it for a milk ad on TV this year. His own version of it is on Same Boy, along with another song Mason wrote in 1969, "Turn Your Back On The Wind".
Don McGlashan recalls in winter 1991 The Muttonbirds were rehearsing in a shed behind car yards on Auckland's Great North Road. "The entrance was often flooded, and we shared the place with a screenprinting business that pumped out toxic acetone fumes constantly," McGlashan says. "We were just learning how to play dark, broody things like 'A Thing Well Made' and 'White Valiant'. I brought in the chords of 'Nature' to buy myself some time, as I hadn't written anything new that week. Everyone loved it; it made a good change, and it came together really fast.
"It's such a good song. The floating, chromatic stuff Wayne does in the verses perfectly fits the story he's telling, and the chorus melody is too optimistic for words – so he goes 'doo doo doo' instead. You get the image of the singer stumbling out into the bush and drinking it all in like some stoned shaman."
After the Fourmyula, Mason went on to play with Rockinghorse (Carl Everson, Clinton Brown, Keith Norris and Bruce Robinson); The Tigers, ("which was mainly Nick Theobold and Barry Saunders's band"); Two Armed Men (Ross Burge, Jonathon Crayford); and then the Warratahs for eight years, till Mason and Saunders had a barney in a cafe in Hamilton East in 1993 and Mason left the band.
"We had that classic argument of whose band is it anyway," Mason says. "The band was sort of hovering about that stage about what to do, what country to visit, and Barry and the band couldn't share the same vision. What happened, I think, was that the band had always been dominated by Barry. He was the singer and a major writer, and as the band matured, my writing became not so countryfied and the band had to grow to accommodate the depth of stuff we were doing – and I don't think Barry was prepared to do that."
Mason thinks something changed in his writing in the early 1990s. "The tenor of sentiment of the songs changed for the better," he says. His first solo album, Between Frames, was released in 1996. It was a critically acclaimed, but was not a commercial success. Nick Bollinger praised it in the Listener, referring to Mason's "sweet, warm voice". For six months in 1997, every time I started my little red Toyota Corolla sedan Between Frames burst into life on the cassette player. I would sing along to songs like "Walking That View Around" and "Thunder in a Cold Land" as I cruised round the Kapiti Coast: the lyrics and high-revving melodies seemed to psychologically fit the terrain. Sometimes I would catch sight of Wayne on his postie round in Paraparaumu and think "why isn't the guy a household name?"
Nick Bollinger believes that Mason's lack of profile says lots of things about the so-called music industry in this country: "If he was in Ireland he'd be akin to Paul Brady, a national treasure. Here he is marginalised by radio's youth marketing. The frustrating thing is I think there is an audience out there who would really enjoy/relate to his current stuff – if they could hear it!"
Mason says he got "slightly bitter for a while" at Between Frames' lack of air play "but people did like the record and that was okay".
He has no bigger fan than his eldest son Sam, who designed Same Boy's cover, and sometimes plays bass when Dad does a gig. "It's been great to play with him," Mason says. "He likes my lyrics and I find that flattering because he writes poetry. He sometimes plays my songs by himself and it's great that I can pass on a song to him."
Same Boy, which was produced by Clinton Brown and engineered by Steve Garden, has a more intimate feel than Between Frames. There are lovely harmonies with Sharon O'Neill. There are songs about love gone astray, entrapment and redemptions rediscovered, and, as ever, there are Mason's familiar geographies, like love songs to this country.
"The longer I live, the less life is linear," he says. "The more circular it becomes. There's a couple of songs on the album I wrote when I was 20. And when I listen to something like "Cold Wind Bay", which was written just a few years ago, I hear things about me that are still the same":
I've never seen a pearl without
There being a mother cloud
Rocks on forgotten roads stretching to the sunset
In the dry grass was I ever there
But I feel my spirit hanging in the air
When the cold night freezes all the stars
And the tired wind moans around the back hills
I was part of a great escape
I can't believe I was ever there . . .
"Cold Wind Bay was written about Te Waewae Bay down the south of the South Island," Mason says. "I came round the corner at Orepuke in a late afternoon winter. The trees were all sloping at 45 degrees and it looked as if it had been sculpted and chiselled out of the southwest wind. That aspect of New Zealand is everlasting. I felt as though I could have been the first person to have seen it, whether it be Maori or Pakeha. I feel a strand in this country. I feel a strand to my ancestors. I'm part Swedish, Norwegian and Irish. That was not long ago, but I'm here and I really feel here."