Listener – July 20, 2003
The Greatest Show On Earth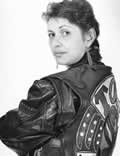 Ten years after writing the screenplay for Once Were Warriors, Riwia Brown sticks close to Jesus.
A good 400 worshippers swarm to the altar of Paraparaumu church the Centre as American pastor Steve Gray chants, "Do you want it now?" What they want is to be anointed by God through the hands of the charismatic preacher. And in the midst of those being "slain in the spirit", a handsome Maori woman is laying hands: she is Riwia Brown, screenwriter of Once Were Warriors.
What's the writer of that tough, grim classic doing in a place like this? Brown became a "born-again" Christian in 1998, five years after Warriors was released. "In myself I was a very strong and capable person, but a lifestyle had brought me to a place where I had lost all hope," she says. "I didn't want to do anything anymore, except sit at the pub."
The solo mother of two now radiates enthusiasm and is firing on many fronts. She has just finished adapting a short story to a screenplay, with the catchy title of Johnny Lingo, for an American film company, and shooting for the adventure love story was scheduled to begin in Auckland this week.
Also lined up for Brown's attention are two New Zealand Film Commission-funded film scripts: one for New Zealand director Brad McGann called The Disturbance (the story had its genesis in Africa and in part explores a "true account" of children who were reportedly visited by extra-terrestrial beings) and a "personal project" about spiritual warfare called The Unseen Realm. The storyline of this script revolves around a pastor and a young woman who sees the spiritual battlefields that are hidden to others.
Brown has written six plays, adapted work for the screen and written for radio and television. She sat on the board of New Zealand Film Commission for three years, and last year was awarded the New Zealand Order of Merit for her contribution to film and theatre.
Would she work on a brutal secular movie such as Once As Warriors again? Brown answers by citing an article about the film in a Christian magazine that likened the story to pieces of The New Testament, and she says that the writer of the article recommended that Christians see the film. "I didn't see the biblical connection at the time, but there are parables to be told in many situations," she says.
* * *
Brown was offered the Warriors gig after a chance meeting with director Lee Tamahori in Wellington, and originally was to be one of a team of writers – each writing a different character. She was to write Beth's part, but also ended up with Jake the Muss and the rest of the cast.
"I always had a vivid imagination and I come from family of storytellers; it's in my blood." Her two elder brothers, Rangimoana and Apirana Taylor (currently writer-in-residence at Canterbury University) came to prominence with the theatre group Te Ohu Whaakari in the early 1980s and her younger sister, Haina Stewart, has also written a play and acted.
"In the early days I served my brothers, working front-of-house. But, she says, they have always been supportive of me". Rangimoana directed her first play, Roimata (1988), and Apirana played one of her characters.
Brown lived her early life in Khandallah, Wellington. Her father, Mel Taylor, was a speech writer for Prime Minister Keith Holyoake. Her mother had tribal affiliations with Ngati Porou, Te Whanau-A-Apanui and Taranaki. The Taylor household was renowned for putting up young Maori who came to Wellington from the East Coast, but when Brown was nine her mother, a non-smoker and non-drinker, died of throat cancer.
"For many years I carried that hurt," Brown says. "My mother came from a big family and when she was nine she drank caustic soda. Somebody had put it in a drink bottle and she drank it, and consequently she burnt her throat and her stomach out. It's an amazing story because she actually survived that. Her mother would not let her have any medical help and for about nine months no doctor saw her.
"But later on she had a stomach operation. They redid her throat and put a stomach in. But the doctors said she couldn't have children, but she did, she had four. And I think had she lived she would had more. She was very strong.
"I was in awe of her and quite frightened of her because she had a very fiery temper. She was quite moody: one moment it would be all sunshine and roses, and the next it would be thunderstorms and lightning. But looking back, I now know that she must have been in incredible pain. She was in and out of hospital. She was incredibly fastidious. As a young child I remember doing housework with her all the time.
"She put dusters on my feet and I would go up and down the skirting boards. And she was very pleased that I could make a bed before I went to school. I loved her laugh. She had an infectious laugh and she worked incredibly hard. And she was a church person. She definitely believed, praise God."
A year after Brown's mother died her father remarried and he got a job in public relations with SEATO (South East Asia Treaty Organisation) and with the exception of Brown's eldest brother, Rangimoana, the family moved to Thailand. Brown stayed in Thailand for three years, coming back to go to St Joseph's Maori Girls College in Napier.
Next stop, England, when her father was assigned a post at the New Zealand High Commission in London. She joined the London Maori Club and toured with the group through Europe. Brown says when came back to New Zealand she was going to serve in Salvation Army, but got "sidetracked". "My paternal grandparents were in the Salvation Army, I was confirmed an Anglican, I lived in a Buddhist country and I went to a Catholic College," she says. "I've always been fascinated by people's beliefs. I was always asking the Mormons, the Jehovah Witnesses, the transcendental meditation people. I wanted to know. I certainly wasn't judging them. I just wanted to know: what do you believe in and why?"
"Every day I look seriously at devotions and consecrate my day and my life to Jesus's Lordship. I stick close to him," she says. "These are perilous times, it's pretty nasty out there. But life is fantastic: I have two beautiful children who are doing very well. I love my work and I have a fantastic church with wonderful friends.
"But it's not sickly good. The thing about my Christian walk is I've realised how unworthy I am. In my own strength I died, and I see my imperfections and weaknesses and it makes me see God."