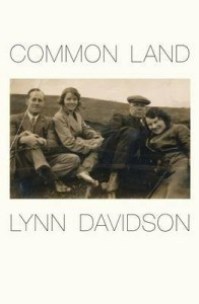 Landfall Review Online – October 1, 2012
At the launch of her book of poems and essays Lynn Davidson said she feels more like herself when she is writing. Was she saying that when she finds the time to write, and read the literature that informs the work, it also affords her the space to think and feel – deeply? Probably. She has invested much in this book, which could be likened to a family's rite of passage. Common Land is made up of three interconnected essays ('Leaving the Is-land', 'Selah' and 'The Flame Organ Concert') that, amongst other things, carry themes surrounding the gradual losing of the poet's mother's cognitive abilities, and the loss at sea of Davidson's first partner – the father of her grown-up son. The essays are separated by runs of poems, relating to different periods in the poet's life.
In 'Leaving the Is-land' Mrs Davidson (to whom the book is dedicated) answers a question concerning how she felt, by saying, 'With difficulty'. The utterance of these two words, and the context in which they are couched, is arguably the book's raison d'etre: 'Like someone speaking a foreign language she misses the mark sometimes,' Davidson writes. 'And in missing the usual mark, she may have hit a more interesting one.' Mrs Davidson (who has since passed away) is in care on the Kapiti Coast (the family home place) suffering from Alzheimer's. Davidson had not long taken up a position teaching creative writing in Nelson, travelling across Cook Strait to visit her mother and family. She begins the piece quoting a line from Seamus Heaney's poem The Aerodrome: 'If self is a location, so is love.' Anyone who has witnessed the workings of Alzheimer's knows the emotions it engenders; in some cases the plaques and the tangles show no mercy, and Davidson is on the pulse: 'Alzheimer's doesn't take the whole person – that in some ways would be kinder. It takes a scoop out of the mind's landscape, then another scoop somewhere else … My mother started off by knowing her life, its landscape and language, intimately. But with each flunked memory she is stranded further and further from home.'
Davidson has packed a lot into the essay's relatively small frame: we're informed that Junot Diaz didn't translate the Spanish passages or explain the references to Galactus the planet-eater in The Brief Wondrous Life of Oscar Wao because he wanted his readers to share the space in an immigrant's life that is not understood – the moment of unintelligibility. 'I'm not implying that the dementia suffer and the immigrant share the same experience of this space or absence,' Davidson writes, 'one is an understanding that can't be imagined and the other is an understanding that can't be remembered.' She reports on a discussion with her students 'about the importance of place in fiction, and how place is never neutral'; and travels to Golden Bay to take time out to write about her mother, but her son contacts her to say his father hadn't returned from a canoe trip off St Ninian's Isle in Shetland, so she returns to the North Island to be with her son and daughter. She writes about loving being in their presence and 'how busy and sad and ridiculously difficult life is … [about] feeling with difficulty and contemplates "… Junot Diaz's space for things we will never understand … [and] … Heaney's " … space utterly empty,/ utterly a source, like the idea of sound".'
'Selah' (a Hebrew word that punctuates the Psalms), is a beautiful/sad piece about repetition and rhythm in poetry and music and prayer that begins: 'Repetition contains our questions: a repeating line drops through a poem filling and emptying, drops through contexts growing elbows and ears or the head of a bird … '. Davidson then deconstructs the poems 'She Had Some Horses' by American poet Joy Harjo and 'The World of Trees' by Scottish poet and musician Jackie Kay – commenting: 'If Harjo's poem suggests chant, liturgy and incantation, then the slow, spare repetition in [Kay's poem] suggests the convergence of fairytale and some weight-bearing blues.' Cool!
Davidson grew up in a musical household, and, along with her two sisters and brother, performed in a piano accordian band lead by their father. They played 'in prisons (!) and (oh the shame) at school events.' But she grew to hate her father's 'fractured count-in: One a-and two a-and three a-and four a-and …' and playing and singing songs such as 'Everyone Loves A Baby'. 'I was after some new rhythms. I wanted to repeat myself.' But Davidson is now 'friends' with fractured rhythm: 'If you set a poem up with a certain rhythm, with certain repetitions, then break that repetition, the fracture sound seems full of possibilities. It wakes the reader up the way a big life event can wake you up …' The poet goes on to relate how her mother "lost the usual names for things, and came to them through metaphor – a window was a mirror; a mirror was a doorway she was standing in. She started speaking in poetry … riffing around the actual … These days she barely speaks … I try not to think what it must be like to be missing … Missing the happy birthday song. Missing the names of your children and grandchildren, the rhythm and repetition of words that describe your place on this earth.'
There are many 'big life' events going on in these essays, the intensity easing a little in the third piece, which is named after, and describes one of Alistair Galbraith's flame organ concerts, and includes an account of a trip Davidson took to visit her ex-mother-in-law in Banks Peninsular where both women get stuck in quicksand. It is particularly poignant because much is left unsaid, and we know that the man these women have in common went to sea on the other side of the world and didn't return. They are bound together physically and emotionally, like the mother who loses her self-language as her poet daughter's words accumulate to make Davidson more like herself. The essays could have made a book by themselves, as could the poems, but the two complementary genres dovetail to make artful autobiography.
Harry Ricketts is a well-known presence on the New Zealand literary landscape, as a regular book reviewer on Kathryn Ryan's Nine to Noon show on National Radio, a high-profile teacher of English literature and creative writing at Victoria University, and in my neck of the woods on the Kapiti Coast, because of his 'rich cultured voice', one of the favoured guests with the ladies at the monthly 'Poets to the People' readings. He has published literary biographies, personal essays, and the star of the moment, Just Then, his ninth collection of poetry, surprisingly the first to be published by a university press. I concur with most of the book's blurb: that the poems are 'formally adroit … by turns funny and tender' – but 'often surprising'?
Nah! Ricketts, to use cricketing parlance, mostly plays with a straight bat. The closest he gets to risk taking is in the book's opening poem, 'El Prado', where he romps around the world's largest art museum ' … randy for an epiphany … Thirty-five years ago with a head/ full of Gormenghast, Seventh/Seal, Crow, the Velvet Underground, you'd have found El Greco's silver-lit e-/ longations "really weird", but not now.' Ricketts follows his mock hip riff with: 'The words seem to come/ from so far inside they don't/ seem coloured by you at all.// … No, they play grandmother's/ footsteps, smee, Chinese/ whispers, blind man's bluff.'
Just Then takes us on a journey through the poet's past, his English boyhood and public schooldays where he fostered a love of reading, cricket and the poetry of an unnamed War poet: 'From eleven to twenty/ I tried to be you.// Every day provided fresh copy./ I took a cast of your footprints …' There are poems and songs written in the 1970s up to recent times, including list poems, poems about second-hand books, poems for departed friends and a lovely poem for his son Will, percussionist for the pop band The Phoenix Foundation, which travels from when wee Will '… had long yellow curls like Little/ Lord Fauntleroy … [to] … Shaved / head, black singlet, sticks raised you might be / the sorcerer's latest apprentice./ The guitars kick in, the blue light spins,/ your hands begin to fly.'
Vivienne Plumb's collection of prose poems, The Cheese and Onion Sandwich and other New Zealand Icons, is an idea one would have thought has had its time, the word icon is bandied around so much these days it has almost been emptied of meaning, but Plumb's quirky art practice has its own unique signature: Te Ware Whare/ The Warehouse don't you hate it when you forget what you came for as soon as you walk in the door/ over the intercom Shanelle could you please go to the storeroom/ sparkle ponies aisle eleven halfway down on the right.
            This is not to say that all the works portray harmless fun, occasionally in the middle of the everyday lurks something understated and disturbing:     fish we bought the fish in the Rotorua Pak 'n Save to cook for dinner/ Mihi was serving behind the counter and she told us how she teaches all day and then works in Pak 'n Save until ten at night because her husband has no job/ she had spent that day in court with two of her students/ fourteen years of age/ they had bashed a man/ Mihi said it was not looking good for anyone/ it was pearl fish that we bought/ it was Tuesday/ remember/ this is the day the fresh fish comes in.